Your Body Believes What You Say
Your body believes everything you say as it sends a message to your mind..
Instead of feeding your mind with negative thinking such as  'I am fat', 'I am overweight'   'I will never lose this weight' start to add positive affirmations.
Use our affirmations or create your own and start repeating them today.
Repeat your selected affirmation(s) with conviction (believe what you are saying) as often as you like per day and for a minimum of 21 days. at which time I am confident you will start to feel better about yourself, you'll be in control and begin to appreciate who you are – you are your best friend and no longer your own worst enemy. Start today to feed your body with positive daily affirmations.
Here are just a few to choose from OR create your own and repeat them often each day. You can never send your brain too many positive affirmations.
My fitness is improving everyday in every way.
I take full responsibility for my weight and physique.
The fitter I become, the more energy I have.
I believe in my ability to love me for who I am right now.
I accept my body shape and the beauty it holds.
I let go of any guilt about my food choices 
When I exercise, my mind is free to concentrate on visualizing my goals
Whenever I exercise I feel rejuvenated and alive
I feel like a thin person today
I am the creator of my own future
I am letting go of unhealthy behavior patterns around food.
Please share your affirmations with us please.
….you may also enjoy this book..

You may also enjoy this wonderful book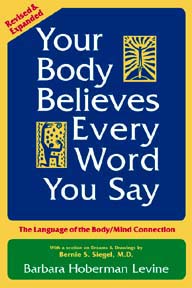 Your Body Believes Every Word You Say:
The Language of the Bodymind Connection, Revised and Expanded Edition
This inspiring book is chock full of new ways to look at life — including health and illness. The exercises are practical and helpful. Before long you will think twice about using words when you speak or think. .