Look Thin While Losing Weight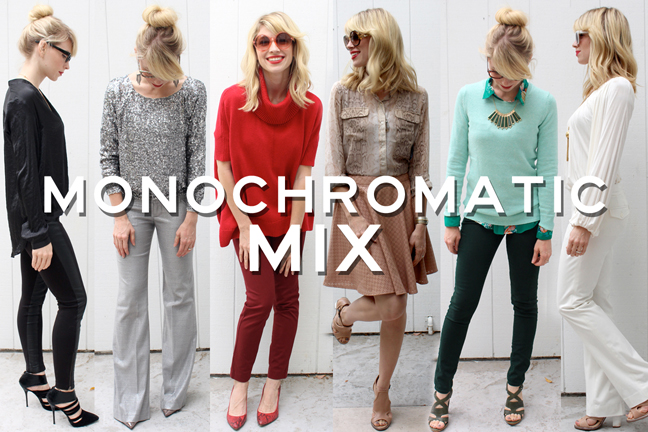 GO MONOCHROME
Every fashion editor and stylist advises us to create a long, lean look one should be a  monochrome dresser by wearing one color shoulder to toe.  Black is the most slimming but any dark color is good.
As much as you may be tempted to select two colors or wear light on the bottom and dark on the top… please don't. Two colors unless both dark will split the body in half and add pounds to your look. However, if you absolutely must wear two colors remember to keep the dark color on the bottom and the light on the top since light on the bottom can make you look bottom heavy. Your goal is to make you look thin as if you have lost weight.
Spruce Up Your Monochrome Look to Help You Look Thin
Choose the Right Fabrics:  The monochrome look can be spruced up and made more interesting when you introduce texture and different fabrics in the same color scheme as your outfit.  This will create interest without moving the 'vertical line' that makes you look lean.
Flat fabrics that help shape and slim you without adding volume include cashmere,  fine cotton, jersey and anything with a touch of spandex as well as silk, denim, and wool gabardine. . Avoid or use sparingly angora, brocade, bouclé,  crushed velvet, fringe and flannel, leather, metallic, mohair, satin and taffeta. ..
Blend shades of one color palate together:  When you blend together shades of the same color it will make you appear taller and thinner.  Try blending shades of grey or brown, navy, green… etc.   Remember to keep the lighter color on the top.
How to Mix Colors
Everything should flow from head to toe without interruption.. If you decide to mix colors go with subtle dark colors such as chocolate brown, charcoal grey, dark forest or hunter green and/or navy with black.
More tips to help improve the look of your body shape and make you appear thin.
PANTS:  Select well-cut, tailored, straight-legged pants preferably without pocket , not even 'hidden' pockets.
AVOID:  Wide-bottom pants can make you look bigger that you really are. Skirts:  Hem Line look their best when they reach the narrowest part of the calf.
SKIRTS look best when they are longer than they are wide. Fuller skirts look better longer and straight skirts look better shorter.
AVOID long skirts since they can be aging. Unless you are on the very slender side avoid pleats as this can add the look of extra pounds to your shape.
JACKETS. Long-line, single-breasted jackets with hidden pockets.
Wear a finger tip or longer blazer over your jeans or other slim leg pants.   The straight lines and thin lapels of a blazer counteract excess curves.  Wear an open jacket with slimming labels over  a V-neck light sweater or tank with your dark-wash jeans or other thin leg pants for an extra-slimming look.
AVOID wearing sleeves that are too long.   Sleeves should end at the wrist.  When they're longer they will bunch up and make your entire body look heavier than you are.
Choose the right size.
Please don't try to squeeze into a size 6 when you are actually a size 8.  You'll be hanging out over the sides (hello muffin top) and it will also be uncomfortable if you decide to eat while wearing the tight clothing.  Wear the right size for you will help you look thin.
Avoid: Belts, bulky pockets and anything that draws attention to the midriff. If you do choose to wear a belt wear it on your upper hip and slightly blouse the top you are wearing. Elastic belts are great for this slenderizing look.
Remember to invest in underwear that fits
Find a professional bra fitter in your area (most department stores have one) that can help you determine if you are wearing the right size band and cup size to maximize your lift and shape to look thin and without bulges and lines. .
Speaking of lines panties that are too snug create bulges and visible panty lines (VPLS) that disturb clean lines and add to the bulk around the butt and hips.  You can get a smooth rear view wearing thongs or g-strings.   You may also want to consider seamless tangas or cheekies*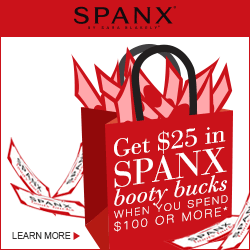 When you are into Shape wear consider wearing a SPANX garment. Their shapers are the best of the best, that's why everyone talks about them.
To quote the people at Spanx:
"We believe the old saying, "beauty equals pain" is BS (Before Spanx)! We know beauty can equal comfort, and that's what we deliver."
* The main difference between Tanga and Cheeky underwear is the amount of coverage you get. Tangas tend to be more revealing at the back while Cheeky cuts are more covered up. The cut you buy will be based on how much of your rear you want to show (or hide).
How Adults Perceive Their Weight and Body Shape
Research into body image by Kellogg's corporation reveals that women typically base their perception of their body shape on supermodels and Hollywood film stars, rather than on the ordinary woman. But according to research, models and film stars are 15-23 percent lower in weight and 5-6 inches taller than the 'average' American woman who is 5 feet 4 inches tall and weighs 138 pounds. It is no wonder an estimated 95 percent of women feel depressed about their weight and shape.  It is time to change this.
To look and feel thin start today to dress in lean-looking clothes.  When you look, feel and think thin… a thin body will follow.
Looking to drop some unwanted weight?
For those of you ready to lose weight it's important to choose a healthy method that is a lifestyle, has a realistic expectation and creates healthy eating and exercise habits vs. a drastic quick and unhealthy solution.
Here are just a few our our outstanding proven weight loss and exercise programs.